It is no secret that Apple has been dabbling in fingerprint protection technology for its mobile phones. Apple had acquired AuthenTec Inc. for $356 million for this very reason. This move can be considered to be in the right direction, taking into account the fact that mobile phones are fast becoming modes of payment.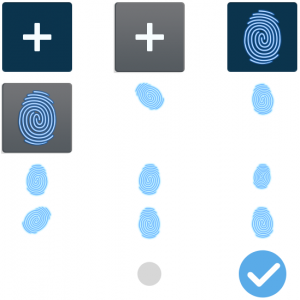 Rumors have been flying around about other OEMs following suit, but the recent findings by Sammobile have confirmed that Samsung has indeed been working on fingerprint protection for its future smartphones. The source of this information is the SecSettings.apk file in the firmware of Samsung's Galaxy S3 phone. A lot of images detailing the fingerprinting technique to be used by Samsung, along with a number of finger prints were found inside that file, which Samsung supposedly forgot to remove from the S3 firmware. Other images depicted different aspect of the fingerprinting user interface and home buttons.
This news has come as no surprise because this is the most obvious step to take when it comes to mobile security. People are still apprehensive about using NFC for making mobile payments because of obvious security issues. But since mobile phones are becoming such a huge part of our lives, the worldwide acceptance of mobile payment is imminent. Equipping smartphones with fingerprint security will alleviate a lot of concerns about mobile banking and payments. While there has been no office confirmation about fingerprint security from any OEM so far, it can still be safely assumed that this technology is coming to our mobiles soon.