Samsung to launch Galaxy Tab 3 Kids edition?
This entry was posted on Monday, August 26, 2013 by Luvvitt.
A new report claims that Samsung will be launching a 'Kids edition' of their Galaxy Tab 3, ahead of the upcoming school season. As the name suggests, it will be a kid oriented version of the Galaxy Tab 3 7.0 tablet. Read on below the break to know more about this new Samsung tablet!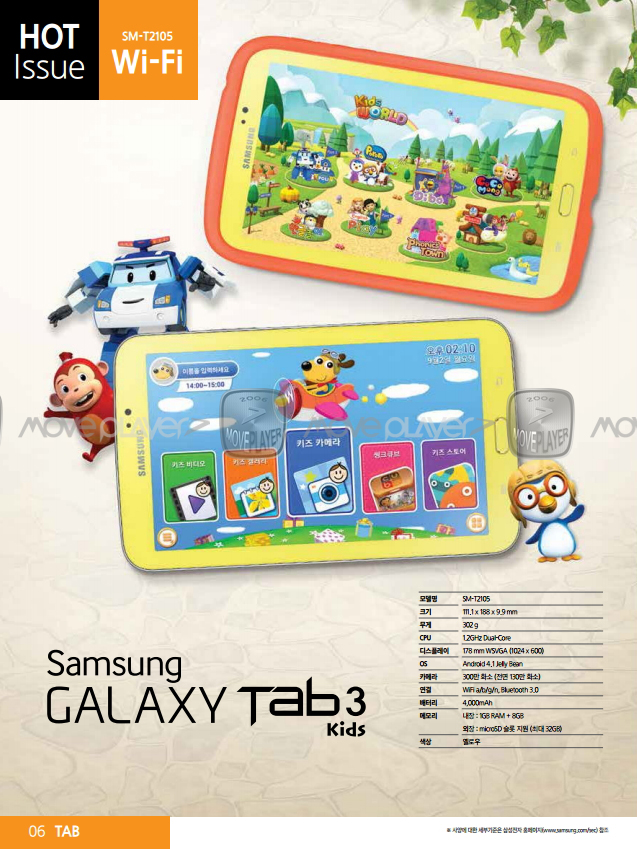 Samsung isn't one to ever shy away from launching new tablets (or diversify existing tablet lines), and this new Galaxy Tab 3 Kids tablet is a perfect case in point. Made with a view to bring the Galaxy Tab line back into attention in a season of various tablet manufacturers offering back to school promotions on their wares.
The Samsung Galaxy Tab 3 Kids edition has a 7 inch TFT LCD display, with a resolution of 1024×600 pixels, quite like the original Galaxy Tab 7.0. The similarities don't end there, as it also runs on a dual core 1.2 GHz CPU, and is powered by 1 GB of RAM. It has a 3 MP main shooter, and another 1.3 MP one in the front. It has 8 GB of internal storage expandable with a microSD slot. It is 9.9 mm thick, and
Where the Galaxy Tab 3 Kids does come into its own though is its software. It runs a customized version of Android 4.1 Jelly Bean, with a great deal of simplification thrown in to make it as easy to use as it can be.
No details about the pricing or launch date are known yet, but it will presumably be priced in the range of the original Galaxy Tab 3 7.0, while the release date can't be too far away at all, one would guess.