Samsung Galaxy S IV: The Expected Specs
This entry was posted on Tuesday, March 12, 2013 by Luvvitt.
In the last couple of weeks, Samsung has been teasing and hinting at all the possible features that its upcoming Samsung Galaxy S IV smartphone could possibly have. Most of what the world knows is speculation so far, but there are reliable sources such as GSM Arena which have managed to compile an almost exhaustive list of features that can be reasonably expected to be in the Galaxy S IV when it does see the light of the day. Read on to find out more about them!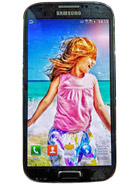 The Samsung Galaxy S IV is alternatively known as the Samsung I9500. The official announcement for the 4G capable handset is said to be right around the corner now, and it has an interesting number of headline grabbing features, as is the norm for every Samsung Galaxy flagship device.
Its front screen will be protected by Corning Gorilla Glass 3 – the newest and toughest variant of the now famous protective glass technology. The S IV will have a Super AMOLED screen again, just like the S, S II, and S III before it. Hence, expect a lot of very deep blacks, highly saturated colors and contrast that's off the roof.
The display itself is said to 1920 x 1080 pixels – giving it a pixel density of a massive 441 ppi. That figure easily blows the density of the Apple's Retina Display out of the park, and by a huge margin.
It will unsurprisingly have Android 4.2 Jelly Bean right out of the box, along with Samsung's very own TouchWiz UI. It will also have Samsung's in-house Exynos chipset, a PowerVR SGX 544 MP GPU, and a quad core 1.8 Ghz processor.
The camera is said to be a 13MP one, while the front cam is a 2.1 MP one.
There are other Samsung-specific software modifications such as SmartStay, S-Voice, free 50 GB storage with Dropbox, and a whole lot more.
Stay tuned to find out how this apparent monster of a phone actually pans out in the next few days!