The new iPad 2 has a better processor, longer battery life
This entry was posted on Wednesday, May 9, 2012 by admin.
The iPad 2 has been around for a while, and has seen its thunder being stolen by the new iPad released this year in March. Even though it has been over a couple of months since its launch, it continues to be an incredibly popular topic of discussion within the tech world. So much so, that the fact that Apple has upgraded the iPad 2 has gone under the radar of a lot of people around.
Apple has intrigued people with its naming scheme for the new third generation iPad, but that's nothing compared to the new iPad 2. It's being called the iPad 2,4 , interestingly enough.
Moreover, the processor is an upgraded one as well. The older iPad 2 had a 45 nm processor, and gave a user 10 hours of battery life on WiFi. The iPad 2,4 goes a step beyond that already impressive figure, thanks to its efficient 32 nm processor (a la the new Apple TV). Anandtech got anywhere between 1.6 to even a whopping three extra hours out of the battery of the iPad 2,4 compared to the iPad 2.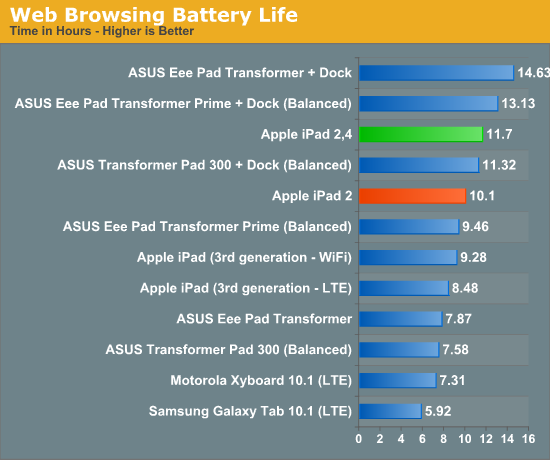 via Anandtech
The iPad 2,4 isn't particularly easy to find in the market though. The folks at Anandtech got it from BestBuy, but apparently most Apple Stores still have stock with the old 45 nm processors.