The new iPad can last a staggering 24 hours as a hotspot!
This entry was posted on Monday, March 26, 2012 by elialtaras.
We'd posted about the Verizon iPad's unrestricted hotspot capabilities a few days back over
here
. Now, the folks at AnandTech went the whole hog to see just how well the new Apple iPad stacked up as a dedicated wireless hotspot. What they got was an unbelievable 24+ hours of hotspot use before the iPad's battery finally gave up!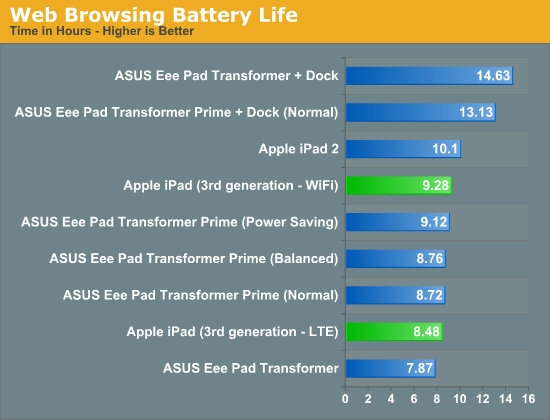 How the new iPad's battery life stacks up against competition (via AnandTech.com)
It's only been a couple of days since the entire controversy about the new iPad's battery indicator erupted. The indicator may or may not be the most precise one in the world, but the iPad battery has been well documented as being incredible. It packs in an 11,666 mAh battery within its slim frame, which is about 70% more than the battery capacity of the iPad 2. 4G LTE connectivity was long considered to be an insatiable battery juice hog. Till the new iPad came along, that is. Few devices till date can last around 10 with LTE usage, just proving the fact that the iPad battery is incredibly powerful.
WiFi hotspots aren't any less notorious for battery charge consumption themselves than LTE for that matter. But, in the right conditions, AnandTech proved that you can manage to make the hotspot run continuously for over an entire day. These 'conditions' included keeping the large Retina display off, primarily. The Retina display has been one of the key reasons for the bump up in the iPad's processing speeds and battery capacity, and keeping it unused got a huge battery charge guzzler out of the way. Doing away with push notifications and email syncing played a part in prolonging battery life as well.
The new iPad is a phenomenal device all around - this latest finding just goes on to reinforce that fact. Naturally, it's outright irrational to think of/buy the iPad as a wireless router, not in the least because of its $600 odd starting price. But that doesn't take away the fact that it sets unprecedented records in running LTE without a hiccup.
(via)