It's official - the iPad 3 is coming on the 7th of March!
This entry was posted on Thursday, March 1, 2012 by elialtaras.
"We have something for you to see.And touch." These nine words could go on to shape the latest evolution ofthe tablet market. Apple sent out a typically minimalist invite to the mediafor an event at the Yerba Buena Center for the Arts in San Francisco on the 7th of March, 10.00 a.m. (PST)
.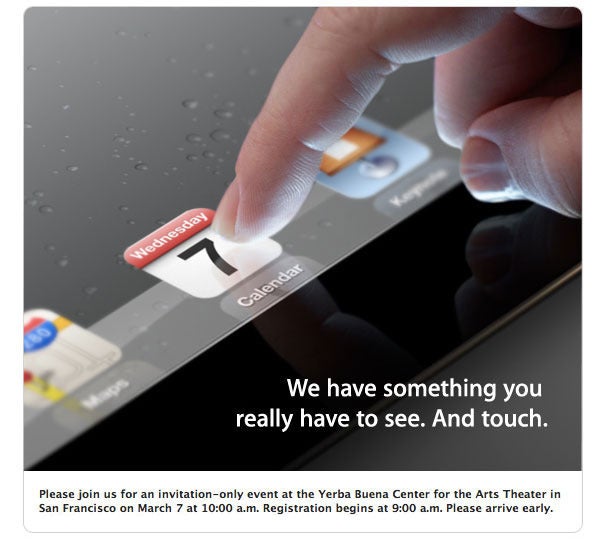 The official Apple invite (source - Macworld)
The venue holds special significance asthe first and second generations of the iPad were announced there as well. Theimage on the invite is of a finger touching the iPad Calendar app on the eventdate. It adds further credibility to the fact that this is an iPad themed event.The image is also important as it proves that the new iPad is going to have, atthe very least, a higher resolution screen than before. This precisely falls inline with the fact that there have been incessant rumors of the iPad 3 having aRetina display. The bezel finish seems to also be different from the iPad andiPad 2.
The speculation about the newest iPad's featureshas also been getting more certain, as D-day gets closer. The cameras on the firsttwo iPads had left an awful lot to be desired, and even more so in comparisonwith the imaging standards of the iPhone 4S. It is said to be almost certain theiPad 3 will be having a vastly improved camera.
Moreover, the processor of the new iPad isexpected to be a quad-core A6 processor. That upgrades on the alreadyimpressive A5 processor in the current generation of iOS devices.
4G LTE connectivity is a remotepossibility and more of a wildcard. Apple has been said to be skeptical aboutthe scope of 4G, at least till it becomes ubiquitous in the USA. Although the4G infrastructure in many American cities has improved by leaps and bounds, itstill isn't the reliable, omnipresent service it was envisioned to be.
As ever, Apple will inevitably surprisethe tech world. It will surpass a few expectations, fall short of a fair shareof them and, perhaps, introduce game-changers in its own inimitable way. Forall we know, the March 7 event could be the announcement of an iPad 2S of sorts– an incremental (and somewhat superficial) update, without really beingrevolutionary. Only time and Tim (Cook) will tell.