Nikon releases 9 new cameras! - Part 1
This entry was posted on Wednesday, February 1, 2012 by elialtaras.
The Coolpix line of point-and-shoot cameras were entirely revamped when Nikon introduced nine new cameras in the series. The best new camera has 42X-optical zoom and new features include GPS, high resolution sensors and revamped optical-stabilization systems.
Nikon Coolpix P510, P310
These are the high-end models. The 42X-optical zoom is the best feature in a point-and-shoot camera you can ever find and the new optical-stabilization system along with a lens-barrel-mounted zoom control takes this camera up in the price point range as well as picture quality. The focus distance of this camera is the minimum most, as Nikon claims; 0.4 inches.
The P510 gives users full manual, shutter priority and aperture priority modes. The 3-inch LCD is adjustable including the eye-level electronic viewfinder. The image resolution is 16 MP and it also features a BSI (backside illuminated) CMOS sensor. The addition of GPS enables each image to contain the longitude and latitude information and video can be shot in 1080p. At full resolution, the camera can shoot 5 pictures per second.
The P510 will be released in February 2012 and priced around $430.
The P310 is the successor of the Coolpix P300 and has the zoom range of 4.2X which makes it useful for portrait shots and wide-angle views. It consists of a 16MP BSI CMOS sensor, as compared to the P300's 12 MP one. There are also low-light modes in the camera to make use of the F1.8 lens. The modes are: Advanced Night Portrait, Night Landscape and HDR mode. It will be available in March for $330.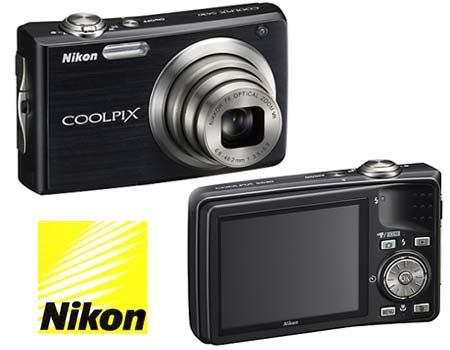 Nikon Coolpix S9300, S6300
The camera is the latest version of the highly popular S9100 and has the same optics and thickness. But the new camera has a higher resolution BSI CMOS sensor - 16 megapixels, and a newer optical-stabilization method. The new model also has GPS built-in, but this camera surpasses the P510 because it also has in-camera mapping so that shots can be viewed by location. The S9300 will be released in February and will cost $350.
The S6300 has a thinner body at 1.1-inches and features a 10X-optical zoom lens. The 1080p video capture as well as many scene modes are similar to the S9300. The camera will be released in February as well and will be priced at $200.